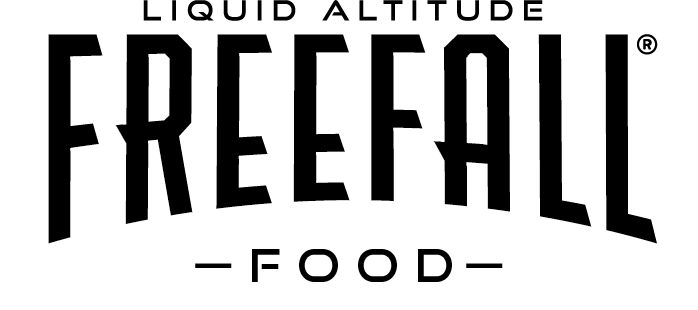 Decadent Chocolate Sangria Cake
Cake:
1 cup unsalted butter, cut into pieces
1/3 cup flour
8 ounces bittersweet chocolate, broken into pieces
1 cup sugar
4 large eggs
3/4 tsp salt
Glaze:
8 ounces bittersweet chocolate, broken
1/4 cup unsalted butter, cut into small pieces
1/2 tsp salt
1/2 cup powdered sugar
1/2 cup Freefall Sangria
1/2 cup whole almonds (or more if you love almonds like we do – we use a cup)
DIRECTIONS
CAKE
1. Preheat oven to 325°F. Use 9″ spring pan. Lightly butter and flour pan. Heat chocolate, sugar, and 1 cup butter in a double boiler OR a heatproof bowl set over a saucepan of simmering water (bowl should not touch water), stirring, until chocolate is melted, about 3 minutes. Let cool completely.
2. On medium speed, with electric mixer, add eggs to chocolate mixture one at a time, beating to blend after each addition. Beat until mixture has a mousse-like consistency. Reduce speed to low and add salt and 1/3 cup flour; mix until smooth. Scrape batter into prepared pan; smooth top.
3. Bake cake until top is firm and edges are slightly darkened, 55–60 minutes. Transfer pan to a wire rack and let cake cool completely in pan before turning out.
ALMONDS
While cake is cooling, put almonds in oven on a sheet pan for 10 minutes. Remove and cool completely. Coarsely chop and set aside.
GLAZE
1. Heat chocolate, butter, and salt in a double boiler OR a heatproof bowl set over a saucepan of simmering water, stirring, until chocolate and butter are melted, about 5 minutes. Whisk in powdered sugar.
2. Meanwhile, bring wine just to a boil in a small saucepan.
3. Remove chocolate mixture from heat and whisk in wine; let cool until slightly thickened and a rubber spatula leaves a trail in mixture when stirring, 8–10 minutes.
4. Pour glaze over cake and spread it across the top and over the edges with spatula. After 10 minutes of glaze setting, sprinkle with chopped almonds. Let cake stand at room temperature until glaze is set, 2–3 hours.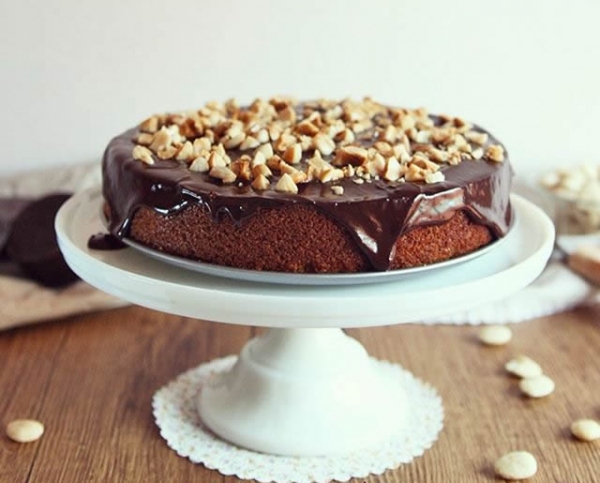 Freefall Ice Cream
2 cups heavy cream
1 cup whole milk
1 cup sugar, divided
6 large egg yolks
2 cups Freefall Sangria
1 pound fresh strawberries, cut into bite sized pieces
1 package raspberries
½ cup blueberries
1. Bring cream and milk to a simmer on medium heat, about 5 minutes.
2. In a medium bowl, whisk ¾ cup sugar and egg yolks until blended. Ladle half of the cream into egg mixture and whisk.
3. Pour egg mixture into saucepan with remaining cream and stir frequently until mixture thickens, about 5 to 7 minutes.
4. Pour mixture into a 9"x13" baking dish and place in the refrigerator for 1½ hours to cool.
5. Pour sangria into a large bowl and add all fruit. Gently press fruit into sangria. Marinate for 1 hour.
6. Ladle 1 cup of sangria marinade from the berries, into a measuring cup. Set aside. Using a potato masher or a large fork, smash berries into small bits. Strain berries.
7. Add 1 cup strained berries and reserved sangria to cream mixture. Whisk until well combined. Pour custard mixture into ice cream maker. Freeze according to manufacturers instructions.
8. Pour remaining smashed berries into a large saucepan over medium high heat and add 1/4 cup sugar. Bring to a boil, stirring frequently. Cook for 15 minutes until thick and turns into jam.
9. Thinly spread jam in 9 x 13 container so it cools quickly.
10. Pour half of the frozen ice cream into a large freezer safe container. Drizzle 1/3 of cooled jam over ice cream. Use a butter knife to swirl into ice cream. Drizzle 1/3 tablespoons more over top. Add remaining ice cream on top of jam. Drizzle remaining tablespoons of jam over ice cream. Use a butter knife to swirl into mixture. Cover with plastic wrap. Freeze to desired hardness.
Sangria Pepper Steak
Ingredients:
1 rib eye or NY strip (1-inch-thick)
1 tsp salt
2 tsp cracked black pepper
1/4 cup unsalted butter, divided
1 tbs olive oil
1/4 cup minced shallots
3/4 cup Freefall Sangria
3/4 cup beef broth
Directions:
1. Season steak with salt and pepper, pressing pepper into steak.
2. In large pan, add oil and 1 tbs butter> cook on medium-high to melt butter. Add steak and sear until crusty, browned, and fat is rendered, about 2 minutes. Flip and sear 2 minutes.
3. Using tongs, lift steak and press edge of steak into pan, rolling until edges are browned and rendered.
4. Place steak flat in pan, and reduce heat to medium. Cook to desired 
degree of doneness, 2 minutes to 2 minutes and 30 seconds per side for medium-rare. Transfer steak to a cutting board. Pour off fat from pan, reserving fond in pan.
5. Add 1 tbs butter to skillet, melt. Add shallots and cook until shallots are softened, 1 to 2 min.
6. Add sangria. Simmer until reduced by half, about 3 minutes. Add broth and simmer until sauce is thick enough to coat the back of a spoon.
7. Add remaining 2 tbs butter to sauce, stir to melt.
8. Slice steak, and drizzle steak with sangria reduction.